TOUR # 16 RANTING PACUARE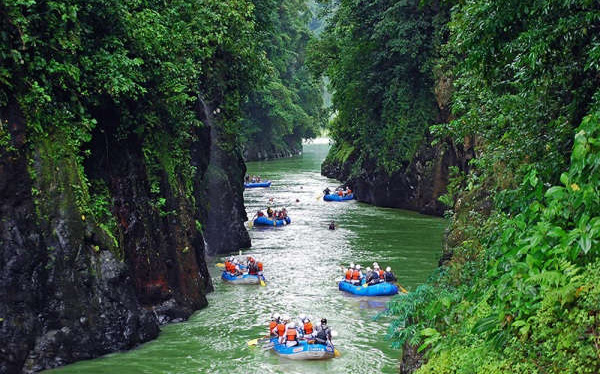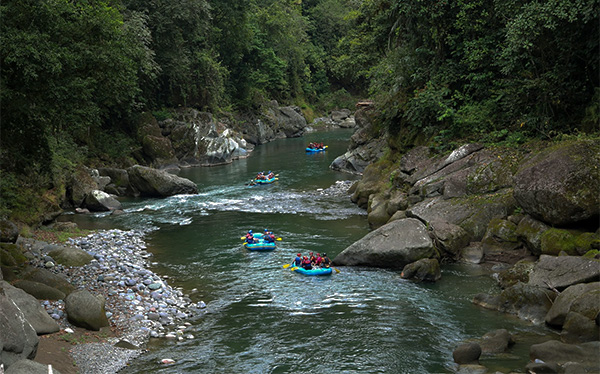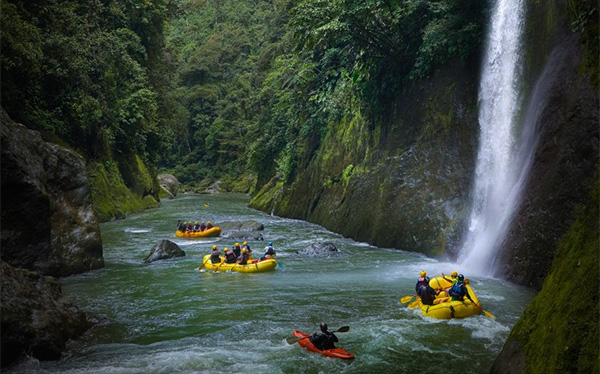 Duration: 12 hours.
Available: all year ( min. 2 pax )
Departure: 5:30 am.
Return approx: 5:30 p.m.
Recommended: 12+ older & previus experience

Price per person:
USD$130

If you are an extreme adventurer this tour is a must-do. The Pacuare River is one of the best options for your adventure hikes in Costa Rica. There is no other trip in the country that offers you a perfect combination of nature exposure and excitement all in one day.
The Pacuare River is world-famous for its great beauty. A true river gorge, it is flanked by steep green walls. Here you enjoy the feeling of total isolation from urban life and the reality of being connected to nature. You see waterfalls cascading into the river from both sides as colorful tropical birds fly right over your head. Breathtaking views of this unspoiled rainforest area appear before your eyes as you descend through this true land of exploration. Wildlife is abundant, with sloths, toucans, parrots, coatis, morpho butterflies, and colorful frogs being common sights. It is not an overly challenging river, but has many rapids, making for a fun-filled adventure.
The 18-mile day tour includes a total of 52 rapids. Few rivers in the world can offer you so many. Upon arrival at our starting point on the river, we'll outfit you with a life jacket, helmet, and paddle and then brief you with a full safety orientation talk. Finally, it's time to take off down the rapids of the Pacuare River!.
Once we start the first 4 miles consist of fun class II-III rapids, which is the perfect time to test your new river skills and gain confidence in your equipment. Here you can find areas of secondary growth forest that are extremely beautiful. After approximately 40 minutes, we will enter the famous Pacuare River, which is 5 miles of some of the best white water that Costa Rica has to offer. The rapids here are named "Terciopelo serpent", "Double drop", "Huacas Superior and Inferior", and "Pinball", among others.
You will also see the Huacas waterfall, a spectacular 150 feet drop into the river. Next after the ravine, the rivers open up to a 5-mile stretch in the Pacuare Valley, where the river has a different character. It is wide open, giving you a chance to rest a bit and take the opportunity to observe wildlife.
The main rapids here are "Cimarrones", "The Play Hole", "El Indio" and "Magnetic Rock". The forest remains just as lush and the rapids just as fun. We will have lunch in the middle of our adventure. Once we finish our adventure we will arrive at the private gathering center where you can shower, change and enjoy the gardens and terrace while you have a beer or two and reflect with your new friends on the great adventure you have just shared.
Includes
Round trip transportation from your hotel
Tour guide
Breakfast & Lunch
Special equipment


No included
Hotel room
Tips
Notes
This tour operates every day of the year with a minimum of 2 passengers.

We pick you up at all hotels in San Jose and its surroundings. At the end of the tour we will take you back to your hotel.
Important
Tour departure: 5:30 am. / Return approx: 5:30 pm.

ADDRESS
20 m South main entrance Boulevar El Bosque, San Francisco de Dos Ríos, San José, Costa Rica.
Edit Page